2017 Business Leaders'seminar
In these seminars, students learn about the latest research trends and obtain useful insider know-how and information to become the global leaders of the future from world-leading business leaders. We hope you could attend as many seminars as possible. Please see the poster if you want to know what contents the guest speakers tell us.
Place
Room 706, Laboratory of Advanced, Research A Building, University of Tsukuba
Access
Take a bus bound for "Tsukuba Daigaku Chuo" or the "University Loop-line On-campus Bus [Tsukuba Daigaku Junkan Bus]" and get off at Tsukuba Daigaku Chuo
Language
English
Registration
No registration is required
Fee
Free
Program
October 4, 17:00-19:00
Speaker
Mr. Masahiko Itagoshi
(Executive Coach and HR Tech advisor, Business Coach. Co.ltd.)
Title
Global Leadership and career development :
By balancing your work, family and leaning, how you should develop your career plan in this dynamic and transitional environment?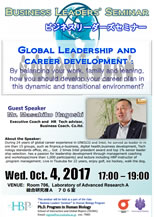 October 12, 2017 15:00-17:00
Speaker
Dr. Lih Ling-Lin
(Senior Director Head of Innate Immunity of Inflammation and Immunology Research Unit in Pfizer )
Title
"Targeting Innate Immunity in Treating Autoimmune and Inflammatory Diseases"
January 15, 2017 14:00-16:00
Speaker
Dr. Kazuya Onomichi (CORPORATE VICE PRESIDENT GENERAL MANAGER, INSTITUTE FOR INNOVATION AJINOMOTO CO.,INC.)
Title
Eat Well, Live Well ~To Greet the Next 100 Years~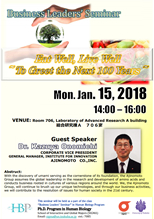 January 17, 2017 16:00-18:00
Speaker
Mr. Hikaru Kobayashi (CEO, Duo'H Partners in Japan President, Team R&D in Japan Funding Partner at Asia Aliance Partners Ltd. Board Member at PAL Inc in Shanghai Board Member at Parkside Hiroo Ladies Clinic)
Title
Case study in cross-border business incubation of technology field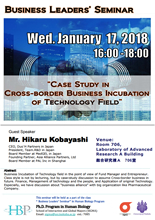 January 19, 2017 16:00-18:00
Speaker
Tadashi Matsumoto, Ph.D., MBA (President & CEO, ReqMed Company, Ltd.)
Title
Global R&D strategy in pharmaceutical industry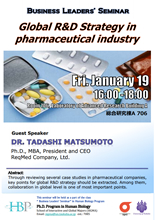 January 25, 2017 16:00-18:00
Speaker
Dr. Shoji Hirashima (Vice President Corporate Strategy Department Daiichi Sankyo Co., Ltd.)
Title
Challenges & Opportunities for the Pharmaceutical Industry