Dr. Osamu Ohneda
Tour on the road united everyone
The most impressive thing about the HBP for me is the entrance examination. I find it impressive because it is open to global recruitment. All faculty members are divided into groups and sent to various areas, mainly the overseas offices of the University of Tsukuba, to look for applicants to the program. In my case, it was a difficult itinerary; I think back to traveling on a cold train in Europe. This tour on the road united everyone and convinced us that our task was important. Everyone shared the same feelings, although everyone's situation was slightly different. I also found it interesting to note when the faculty members began to feel the weight of their responsibilities.
For example, Prof. Kato's group went to Tunisia, while our group went to Hungary. The students we recruited at that time were Dhouha and Eszter. Before going to Hungary, I communicated our intentions to the university teachers in Hungary using the teacher networks in our group, and I asked them to recruit students. Although there was only one potential student in Hungary, we went there to conduct the HBP entrance examination. Had this been a standard written examination or interview, we could have undertaken it online via e-mails or Skype; however, we needed to see the student in person, since the HBP entrance examination places emphasis on face-to-face debate and discussion. Additionally, because there was only one potential student in Hungary, she was unable to hold a discussion with any other students; she thus discussed with me and a staff member, and the other faculty member evaluated the process. Looking back, this is a pleasant memory for me.
At that time, even if only one student in a country applied to the program, one of us would visit that country to conduct the student's entrance examination. This is how committed we were to acquiring students. Because we were so committed to launching the program, despite working on many other tasks, our involvement with the HBP impressed on us the importance of continuing our work.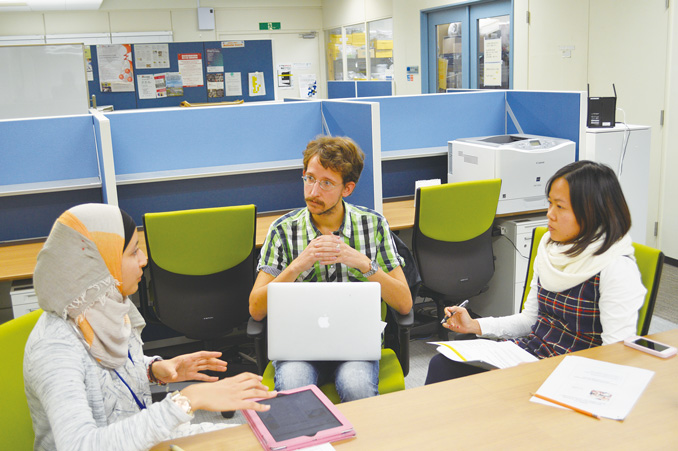 The outcome of talent scouts through the world trip
[ Oversea Network Building ]
As HBP curriculum consists in not only classroom lectures but also practical education courses such as "Entrepreneurship", "Appropriate Technology", "Oversea Internship" and "Oversea research rotation", it was necessary to build worldwide networks that support the variety of HBP courses.
In addition to 13 oversea offices of the University of Tsukuba in 12 countries, HBP cultivated international networks such as companies, organizations and institutions in East Timor and ASEAN countries where we worked in "Appropriate Technology" as well as companies and laboratories where we conduct internships.
Eszter Toth
It does not usually happen
The reason I knew about HBP in Hungary is that my professor at that time had been collaborating with Nagata-sensei for a long time, and they had a good relationship. One day, my professor told me about and recommended me for this program; it seemed very interesting. After the registration, some of the professors from the University of Tsukuba came to Hungary to promote this program and also conduct the entrance examination.
It was very surprising as several people, including professors, took a flight and came from such a remote site to directly see me. It does not usually happen. Actually, I was the only one who was there to see them at that time. And what I really liked were some of the questions I got in the exam—they were quite surprising. I was thinking that the subjects on the test would be hard. But it was not like that at all.
Actually, my major was chemistry in undergrad school and obviously different from major in human biology. So I was a little worried that I would not be able to answer their questions. But there was no issue because the questions were very interesting. I wrote a few essays on why natural diversity is important and similar other topics. Through the discussion and exams, they wanted to know what I was thinking and how I could argue about something not so familiar to me by using imagination and logic. I felt like I was welcome as we went out for dinner and drinks together after the exam. It was really nice. All this process including the discussion at the entrance examination reinforced my decision to apply for this program and helped me decide to go to Japan in the end.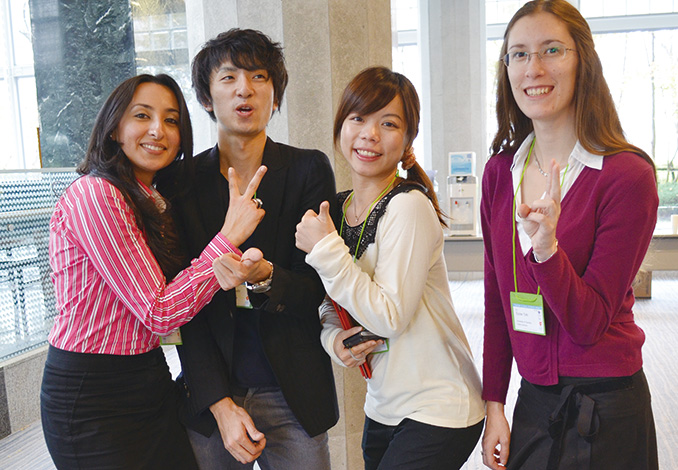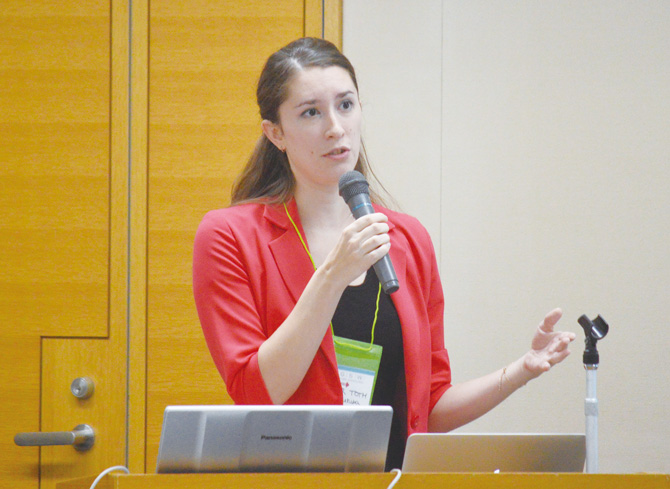 First introduction in HBP
[ Everyday Global ]
It was necessary to actively bring excellent students to HBP from all over the world in order to build an environment where international and Japanese students study in English together and to realize the internationalization by which the students deeply understand each other's culture and study field through daily lives.
Calls for application for admission have been spread around the world by utilizing the overseas offices of the University of Tsukuba in order to attract excellent students. The nationalities of HBP students are American, Indian, Dutch, South Korean, Sri Lankan, Taiwanese, Chinese, Tunisian, Turkish, Hungarian, Japanese, Filipino, Vietnamese, Moroccan and so on.